Surely you've heard of The Polar Express? The book and film about a young boy heading to the North Pole on Christmas Eve?
Well, if not, don't fear! I'm here to help you not only learn more about the film, the train but also the different types of Polar Express Model Trains' out there.
CHECK OUT OUR BEST PICK HERE!
If you're in a hurry, or just want the best one of the lot, we recommend going with the Lionel Polar Express Train Set in O Gauge. It's a classic train set that is well made, looks stunning and can be used year round if need be. [amazon box=" B01N3D2VTC" tracking_id="myhobbymodels-20″]
---
What is the Polar Express Train
The Polar Express train is a Christmas-themed Pere Marquette 1225 2-8-4 Berkshire steam locomotive. The Pere Marquette 1225 was built in 1941 and was the basis for the Polar Express train featured in The Polar Express movie, and also the children's book of the same name.
---
Is the Polar Express Train Real
Not technically; The train in the film was based off the real Pere Marquette 1225 train in Michigan, but was technically a fictional design used in the film. 
Due to the popularity of the movie, however, there are a number of real-world Polar Express train rides you can take, including the real Pere Marquette 1225! They all take place on various trains, but all feature a trip set to the sounds of the motion picture soundtrack. 
Once on the train, you'll have your Golden Ticket punched, be served hot chocolate and cookies, as well as meet Santa and be given a gift just like in the movie.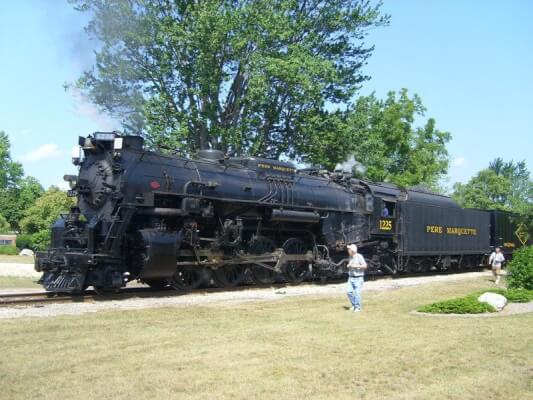 ---
The Polar Express Train Movie
The Polar Express movie was made in 2004 and was based on the 1985 book written by Chris Van Allsburg. 
It stars Tom Hanks in a number of roles, as well as Daryl Sabara, Nona Gaye, Jimmy Bennett, Eddie Deezen and even Tinashe. 
It follows the adventures of a boy who doubts the existence of Christmas until a locomotive pulls up outside his house on Christmas Eve. The train, The Polar Express, is bound for the North Pole and is taking a number of other sceptical children to the North Pole as well. 
The film follows their adventures on the train, and the harrowing journey they take to make it there before arriving at the North Pole. 
---
Where is the Polar Express Train Ride Located
The official train that the film was based off, the Pere Marquette 1225 is located at the Steam Railroading Institute in Owosso Michigan. 
Following the success of the film, the train was lovingly rebuilt and now runs from November 16th to December 21st of each year. 
There are more than a dozen other trains that offer Polar Express themed trips that take place across America, Canada and more recently, the UK. 
---
Does the Polar Express Train Move
It does now! In 2009 following the immense popularity from the movie, $1 million grant and a crew of engineers and volunteers, Pere Marquette 1225 it's based off now runs! It's currently based out of Owosso Michigan and runs every November and December. 
---
Where to ride the polar express train
If you'd like to ride the closest thing to the Polar Express, the Pere Marquette 1225, it's currently based at 405 Sout Washington St, Owosso, MI. It's located at the Steam Railroading Institute. It runs from November 16th until December 21st. 
---
How long is the polar express train ride
The Polar Express Train ride lasts for roughly 1 hour. In that time you'll get a golden ticket, read along to the book written by Chris Van Allsburg, drink hot chocolate and eat cookies, and meet Santa! 
---
Lionel Polar Express Train Set
So what's the best thing you can get someone who loves The Polar Express. A perfect replica of The Polar Express locomotive of course! 
Lionel Trains are a premium manufacturer of model trains and own the licensing rights to The Polar Express train. 
They currently make a variety of different sized model train locomotives, from HO through to G scale and even a cheaper Ready-to-Run model too! 

All of the models come with a locomotive, coal tender, passenger cars and track to build! 
The best part about the Lionel Polar Express series is that they're Bluetooth enabled, so not only do they come with a remote, you can also use an app on your phone to control them. Just search for the LionChief app on the app store or play store. 
Let's dive in and take a look at the different trains and which one might be perfect for you!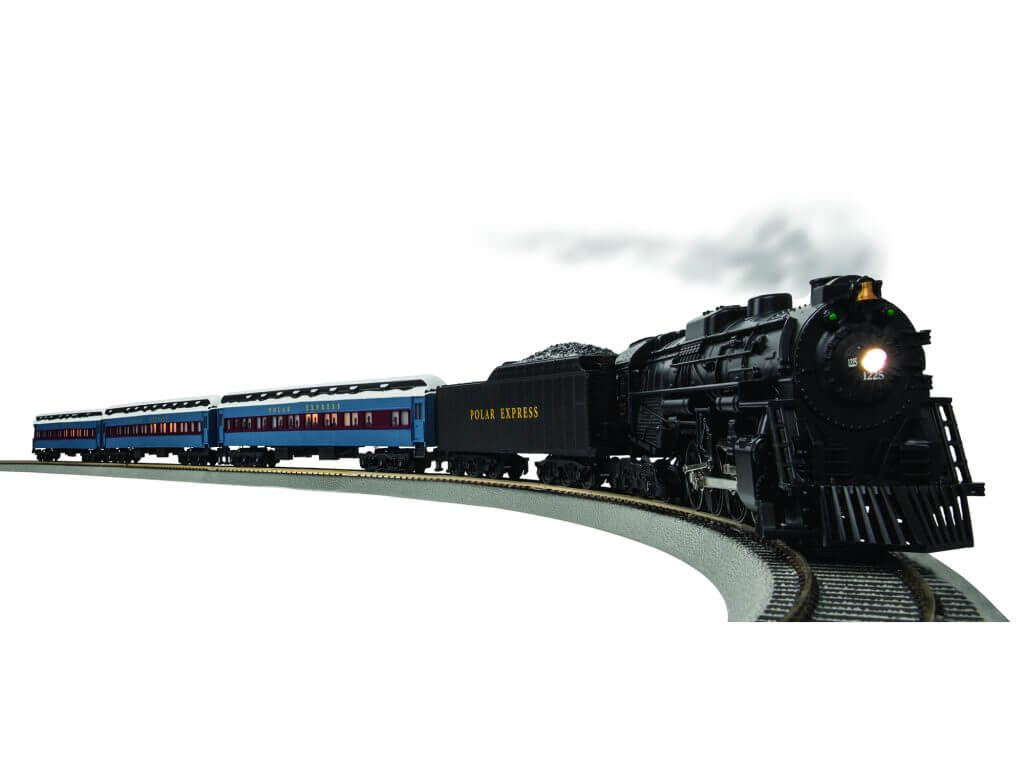 ---
HO Polar Express Train 
[amazon box=" B07BF1NX57″]
An HO scale train is an amazing choice if you're looking to get into the hobby. HO scale trains are one of, if not the most popular scale of a model train to date! They measure in at 1:84, so they're relatively small but still big enough that you can capture plenty of detail and enjoy them at any age. 
So what even comes in the Polar Express train set? 
A steam locomotive
A coal tender
A passenger car with silhouettes
Observation car
Abandoned toy car
12 curved and 3 straight tracks and 1 terminal section. 
LionelChief remote
The Polar Express bell
Do we recommend this scale? If you've got a smaller space to work with, this is definitely the train set for you. It's one of the cheaper options, and will still look great!
---
Polar Express Train O Gauge
[amazon box=" B01N3D2VTC"]
Going up a size again, an O scale train is 1:48, so double the size of HO. If you're totally new to model trains and think this is something you might like to get into this is the size for you. There's also plenty of O scale accessories out there because it's still an incredibly popular size. 

This Polar Express train set also comes with 4 mini-figurines of the movie characters that aren't available in the HO size. While admittedly they're not the best quality, any kid will still have a good time playing with them. 

This is our recommendation for someone new to model trains or just want's something Polar Express to display at home or around the Christmas tree. 

---
G Scale Polar Express Train
[amazon box=" B000GL1EEE "]
Going up almost double the size again, the G scale train is 1:22.5! While the G is technically a reference to "Grosse" or "Big" in German, most people call it a Garden scale because they're so big that's really where they end up. A lot of people tend to build large train tracks that run around their garden with this scale. 
So if you've ever wanted to delight your children, nieces and nephews with a train this might be the size for you. It would also look great as a Christmas display train too!. 

This scale features mostly the same as the other two sizes with a couple of differences:
The observation car has opening doors
This set only comes with 3 figures instead of 2. 
This train set is probably our pick for outdoors or underneath the Christmas Tree if you have a large living room. G scale is bigger than you expect it to be, so it's definitely something that will take up some space!
---
Lionel Polar Express Ready to Run Train Set
[amazon box=" B01C35QC4W"]
This is a version of The Polar Express train that really only benefits from being cheaper than the others. Lionel offers a set of trains under the "Ready-to-Run" banner that doesn't really fit in with any other scale. The size is most comparable to a G scale locomotive, however, it's not technically that big. Because of this, it means that you're locked into using Lionels Ready-to-Run system for this specific train only. (There are a few other themed trains that use this set too!)
The real sell here is the heavily discounted price-point, although the quality is obviously not nearly as good. 
We'd recommend this model to anyone that just wants to put a Polar Express train under the Christmas tree or give it as a gift, and doesn't have a big interest in the hobby of model trains, so much as just the train itself. 

---
Lionel American Flyer Polar Express Train Set S Gauge
[amazon box=" B07BF24R61 "]
We're going to start off with a slightly odd sized train! This is an S gauge model train (1:64) and isn't a typical rail type. It sits between the HO (1:84) and O gauge (1:48).
So why even purchase this model? Well, it's perfect for collectors of American Flyer style model trains.
American Flyer was a manufacturer of model trains first beginning in 1907. They grew in popularity for making S scale trains in the '50s for the A. C. Gilbert Company. Unfortunately, S gauge declined in popularity as other scales became the norm, and they were eventually purchased by Lionel who now makes speciality American Flyer model trains. 

Honestly, unless this is something you're specifically after, we'd probably suggest giving this a miss in favour of a different scale of a model train! 
---
N scale Polar Express Train Set 
Unfortunately, the HO scale is as small as The Polar Express train set goes, and there is no N scale train set for The Polar Express. 

---
Does the Polar Express Train need Batteries
Yes, all the models do. They take 3 AAA batteries to control the remote that goes with them. 
---
Extra track for a Polar Express Train (Lionel)
You can purchase extra track for every Polar Express train set. The typical scales of HO, O and G all run on standard track for those specific scales and gauges. 
The Ready-to-Run train can only be used with other Ready-to-Run track made by Lionel specifically. 
Finally, Lionel also manufactures some extra S-gauge American Flyer track, but it's going to cost you nearly as much as the train itself to buy. 
---
Bachmann (North Pole) Polar Express Train Set
[amazon box=" B07K7FB8MW"]
So what about other non-Lionel manufacturers? Well, unfortunately, Lionel owns the rights to produce official Polar Express model train sets. 
However, the next best thing is the Bachmann North Pole train set in HO scale. 
Bachmann Trains are a verified manufacturer of model trains, started in 1833 and have been making model trains for decades! 
Their the North Pole set is the closest you'll find to a Lionel Polar Express competitor. The set includes:
2-6-2 steam locomotive with operating headlight, smoke, and tender
heavyweight coach
heavyweight observation car
16 pieces of 22″ radius curved track, 3 pieces of straight track, and 1 plug-in terminal rerailer
power pack and speed controller
Bachmann is a great alternative to Lionel if that's your preference. Both brands HO scale Christmas themed trains are almost identical, and both are going to look great. 
---
Polar Express Train Accessories
There are a ton of great accessories and products related to the Polar Express Train! Some of our favourites include: 
Train related accessories:
Non-Train related accessories: 
Those non-train related accessories are the perfect accompaniment gift to go with a train or as a keepsake! 
---
So there you have it! Everything you need to know about The Polar Express film, the real-life train – Pere Marquette 1225 – that it's based off, as well as the types of real-world Polar Express, trips you can take.
If you're interested in the Model Train aspect of things, feel free to take a look at some of our other guides like the Ultimate Guide to Model Trains, or if you're new to the hobby, the Beginners Train Guide.
Alternatively, if you just need something for around the Christmas, tree, take a look out our Best Christmas Trains guide.
Peter has been building model trains for longer than he can remember. An avid fan of HO and O scale this blog is a creative outlet to allow him to dive further into other scales and aspects of the model train community and hobby.