Model trains are known for the fact that they can fetch a pretty penny, both new models and old ones alike!
But people always have questions, like are old model trains worth anything, what's the most valuable model train in the world, and is that old model train sitting in my attic worth taking to Antique Roadshow? Well, the answer is maybe!
New model trains can run you anywhere from $50 right up to $1000 depending on what you're willing to spend. Old model trains, or ones that have history attached to them, can set you back tens or hundreds of thousands of dollars.
That's just for the train, not the whole layout either!
In fact, there's the Roadside America model train layout in Pennsylvania that has cost millions to build based on estimates, although no exact figure is available. This clearly goes to show that model trains are not just a simple hobby to some people!
They are a labor of love and a huge investment more often than not (but if you want something more accessible to beginners, see our Trains for Beginners post).
But what really matters is that they are worth the effort and the journey, and that alone is what makes this entire experience a great one!
Now let's take a look at the most expensive train and layout in the world!
---
What is the most expensive model train in the world?
When it comes to the most expensive model train that's ever been sold, it has to be the Lionel Standard Gauge Set from 1934 – a Mint-in-the-Box train set with a 400E Engine & State Passenger Cars that sold for around $250,000 at auction.
Having a single model train sell at this price is nothing short of extraordinary, and it really goes to show the incredible value and quality that some of these trains can bring to the table.
Another honorable mention should go to one of the most valuable Lionel trains "The Brute" – the rarest model train that Lionel has ever produced. This rare Lionel train a one of a kind, and despite not selling, the owner is asking upwards of $500,000 for it. So the only reason it doesn't take the lead as the most valuable Lionel trains of all time is just that it hasn't been sold yet.
It's certainly unique, different and it shows just how much money some people are willing to invest into their passion.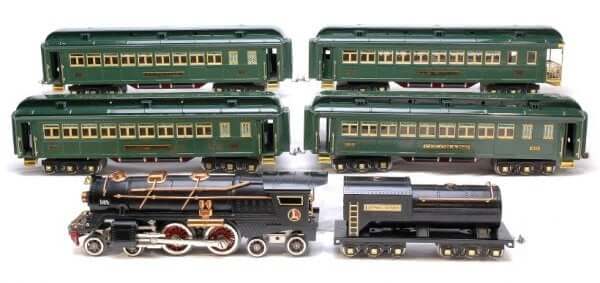 ---
What is the most expensive model train layout ever built?
Miniature Wonderland, Germany: $12.12 million is the one that will come to mind right away. The layout is huge, it covers around 8.08 miles of track, it has 14,450 wagons and also over 1000 trains.
That's spectacular, and you can see why something as large as that could cost so much in the first place. There are model train layouts that cost millions of dollars like the Seiffert Road layout in Oregon at $3.5 million, but even that massive one pales in comparison with to the one in Germany. It's an absolutely gorgeous layout and well worth the trip to visit if you're ever on that side of the world!
---
What are most old model trains worth?
The big question on everyone's mind is "Are old model trains worth anything?". Well, that depends on the age of that model train. An old vintage train set can be worth $100 or less, it can also be worth $10,000, or sometimes even a bit more.
It all comes down to the manufacturer, the state that the train is in, and other factors like the rarity of the production run, it's features, etc. The easiest way to work it out is to just search for your model train on places like eBay, ask in forums, or even take it to an auction house if you're serious about selling and let them do the work for you.
While some trains can be worth an eye-watering amount, at the end of the day what really matters is that there are a plethora of model trains to choose from and the hobby is available to everyone no matter the price point.
But if you want some of the very old vintage model trains, you have to pay up.
---
What makes a model train worth money?
Usually, the rarity of that piece will drive a lot of value, a lot of companies like Lionel only made small production runs in their early days. When it comes to model trains in general, what makes them worth money is the technology they are using, as well as the quality that they're still in.
The reason the Standard Gauge set from Lionel is worth so much is because it's basically new in the box. Most valuable model trains are also quite accurate representations of regular trains and most of them tend to have great craftsmanship and care taken in producing them.
---
Overall, we found that there are plenty of model trains that can be worth a decent amount of money. How much they cost however, totally depends on the manufacturer, state and quality.
If you'd like to find some more model trains that are slightly less staggering in price, take a look at our electric train posts here! Or if you're just getting into model trains, take a look at our Ultimate Model Train Guide here.
Peter has been building model trains for longer than he can remember. An avid fan of HO and O scale this blog is a creative outlet to allow him to dive further into other scales and aspects of the model train community and hobby.