To work on anything small, from miniature models like Warhammer 40k to model trains, you have to be able to see the details clearly, and sometimes our eyesight just doesn't cut it when we need to be precise with a paintbrush or scalpel!
A lamp that combines built-in magnification with good light can make your work less strenuous, and stop all that eye strain as well!
Optics and good light are two things you shouldn't take for granted if you enjoy your hobby!
So let's have a bit of a look into what you need to know if you're considering buying a magnifying lamp for miniatures in the near future!
---
Glass or Plastic Lens Magnifying Lamps?
Glass lenses give better clarity. Glass offers better light transmission properties so all wavelengths pass through easily.
In addition, glass is very difficult to damage and scratch. All those bumps you end up making with your tools and brushes will be obscured in the glass.
In contrast, plastic is cheaper and weighs less. This means that magnifying lamps equipped with plastic lenses are easier to carry and smaller.
If you don't plan on painting for long hours, a plastic lens magnifying lamp would do, however, if you're deep into the hobby and paint for a long time, splurge and pick up a glass lens magnifying lamp instead. You'll thank me in the long run!
---
Floor Lamp, Clamp-on Lamp, or Desktop Stand Lamp?
The best magnifying lamp is something that's stable, secure and works for what your intended purpose is. So that could be that you're just working away at your desk, or you've got multiple work-stations or you might even need to pack everything off the kitchen table when you're done!
Desktop stand lamps are awesome if you've got a desk that you can leave set-up over a longer period of time. Since most of them are wired, it's a bit of a pain if you've got to move them around a lot.
Clamp-on magnifying lamps are awesome because they tend to be a bit more versatile and powerful than your average desk magnifying lamp. They're great if you're working in a tight space or have to keep moving them around because they're predominantly battery operated.
The only downside to these is that because they're clamped to the edge of the table, you just need to make sure that the arm is long enough to reach where you need on the table.
A floor lamp with a magnifying glass would be the best choice if you work in different locations in a room. They're big, powerful and since they're not attached to the table, give you the most workspace possible.
---
What is Diopter Magnification Power?
Diopter units measure the magnification power of a lens, so the more
Try to get lamps with a diopter unit of 4-7, which gives about 2x to 2.5x magnification power. These provide enough focal length for your tools and brushes to work with without them looking blown out while you focus on your models.
Depending on the scale of your miniatures, you might want to even go up to a diopter unit of 8-16 which are 3x to 5x, which will really let you see those minute details!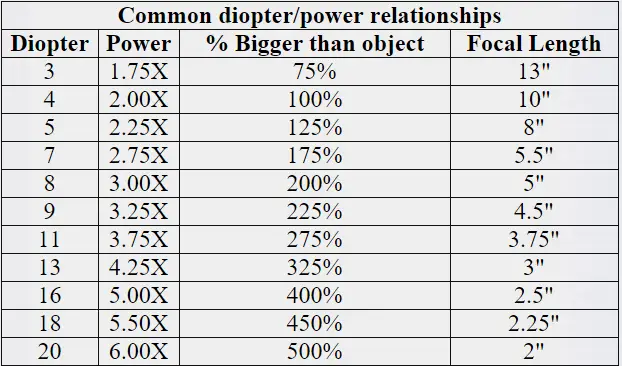 ---
What Type of Light Should I Look for?
Bright LEDs (anything over 800 lumens) offer better contrast and elevated visual details.
Daylight colour temperature lighting is ideal for true colour reproduction in model and miniature painting work.
Daylight lamps for painting accurately have a colour temperature that stays within the range of sunlight, which is between 5000-6500 kelvin.
The problem is if you get a light that is more on the yellow side, or even an LED that skews too blue, you're going to find that the colours you're picked afterwards are going to be a lot different once they're out from behind the lamp!
---
Top 5 Best Magnifying Lamps for Miniatures and Model Trains
No.1
HANDS FREE, FULL PAGE MAGNIFIER LENS FOR YOUR COMFORT & EASE OF USE - The flexible 24" gooseneck bends to point the magnifier and light where you need it. The extra wide rectangular lens bring a full page of a book into view, and the Lightview Pro being hands free allows you to use both hands to read, perform professional tasks or enjoy crafts and hobbies. This model features 2.25X magnification with things in focus at a distance of 8 inches.
BOUGHT BY PROS & CRAFTERS: The Lightview Pro's reviews show it is used BY PROS: For doing facials, eyelash extensions, makeup and other esthetician / beautician tasks, tattoo artists, electronic design. BY HOBBYISTS: For puzzles; reading books, newspapers and crosswords; sewing, cross stitch, jewelry making, knitting, crocheting, quilting, beadwork, woodworking, repair of small electronics and soldering, painting, drawing and more.
HELPFUL FOR MACULAR DEGENERATION & AGING EYES: Multiple testimonials from those with macular degeneration and from ageing customers show that older eyes need extra light, as well as magnification, to see details and full contrast. From reading fine print on pill bottles to seeing individual threads in a sewing project, small color nuances in a puzzle or fiddly jewelry clasps, countless activities require light and magnification. The Brightech Lightview Pro floor lamps provide this and more.
REAL DIOPTER GLASS & 20 YEAR LIFE BRIGHT LED LIGHTS FOR MAX DURABILITY - AVOID REPLACEMENT HASSLES - The 6.5" x 4" lens is genuine diopter glass, so the lens doesn't warp with time or heat, and is also scratch resistant. So it lasts longer than cheap acrylic/plastic lenses that warp in heat and scratch easily, requiring replacements in little time. The 9W, 540 lumen LED lights are built in and last 20,000 hours - about 20 years if you use the Brightech Lightview Pro 3 hours every single day!
The Brightech LightView Pro LED Magnifying Lamp bears a resemblance to the XL version equipped with a rolling base. But instead of wheels, this one is weighted at the base to prevent the lamp from toppling over. A flexible arm is used in the palace of a swing-arm system. The height of the vertical stand can be altered between 24" to 44". As the lamp comes with a floor stand, it saves space on your desk.
Emitting about 540 lumens, the LEDs are decent. The color temperature leans toward the cooler side, which is perfect for capturing the true colors of the object. It's a shame that the lights cannot be dimmed or the color cannot be changed. 
Pros:
Good magnification power
6″ diameter rectangular glass lens
Weighted anti-tip base
Great value
Cons:
Hard to store
Not very portable
Non-adjustable brightness and color
---
No.1
3 Color Modes & Stepless Dimmable - 64 pcs super bright LED, 9 w, up to 960 lumens. 3 color modes( white, white&warm, warm) to choose. Long press the brightness button to each mode easily adjust between 10%~100% of brightness to achieve the perfect lighting for professional tasks, reading, arts & craft, sewing, needlework, models, puzzles, and another hobby.
2.25X/5-Diopter Optical Glass - 4.1" authentic optical diopter glass, provides a clear magnifying view without distortion, up to 2.25X/225%. It is designed for anyone who needs to continuous close focus work or anyone needs vision aid. Optimal for viewing very fine details in books, newspapers, magazines, photographs, maps, electronics, jewelry, pill bottles, medications, and crafts of all kinds. Long-term use without dizziness, reduce the eyes strain.
2-IN-1 Desk & Clamp Lamp - This magnifying lamp comes with a base and a metal clip, you can use it as a desk lamp or a clamp, it can be easily installed without any tools. The max clamping distance of the clamp is 2.1in, as long as your workbench has an exposed flat edge, it can be installed to use. Such as a desk, workbench, shelf, or table.
Hands Free Magnifying Tools - This magnifier lamp comes with two swing arm, there has 3 knobs & 4 springs, through adjusts the knobs, you can fix the glass lens where you need it, free your hands so you enjoy arts & hobbies such as cross stitch, knitting, beading, painting, miniatures, etc.
The Lancosc 2-in-1 Magnifying Lamp can go up to 960 lumens. It has three different color modes – white, warm, and warm & white to choose from. You can also adjust the brightness – a feature that should be in every magnifying lamp but isn't.
The 4.1" optical diopter glass isn't the best we have seen, but it provides magnification of up to 2.25x the original size. This is the perfect lamp for anyone who needs the vision aid at all times.
A base and a metal clip are included with the lamp. You can use it as a clamp or desk lamp, adding to its versatility. In addition, the two swing arms offer needed maneuverability. 
Pros:
Versatility
2-in-one use
Adjustable brightness and color
Lightweight
Cons:
The clamp base is poorly designed
Difficult to secure to any work bench
---
No.1
Powerful 8-diopter optical glass lens with 3x magnification and distortion-free view
Energy saving rechargeable design with up to 6 hours of battery life | Micro USB cable included
6 energy-efficient Daylight LEDs with 3 adjustable brightness levels; ideal for close up work, hobbies & crafting
15-inch tall lighted lamp with flexible metal gooseneck & clip; fully adjustable to any desired position
Heavy-duty metal clamp firmly attaches to a desk or table, plus detachable lightweight aluminum handle for handheld use
The Fancii Daylight LED 3X Magnifying Lamp is quite similar to the Brightech LightView Pro Flex (another lamp we will mention), but cheaper. The glass lens impresses with its 3x magnification power which works great for miniatures. However, the shorter focal length may be a problem for some. The LED is powered by six daylight LED bulbs arranged in a ring. 
As the light is battery rechargeable, you can go wireless. Who doesn't like a portable desk lamp? What we don't like is the 3.5" diameter lens.
Pros:
3.5x glass lens
Clamp-on flexible gooseneck
Wireless portability thanks to built-in battery
3x magnification
Cons:
Short focal length
Small diameter lens
---
No.1
CLARITY & QUALITY: GENUINE GLASS MAGNIFIER THAT MAGNIFIES 225%.: Review: "The magnafine [sic] glass is so much clearer than what I was using and it feels very heavy duty." That's because the 3" lens is made of genuine diopter glass, unlike cheap lenses made of plastic/acrylic that fog up. Things are in focus about 8" away.
BEST FOR COMFORT: GET THE LENS & LIGHT WHERE YOU NEED, WORK HANDS FREE, AVOID UNCOMFORTABLE MAG GLASSES - The Brightech LightView Pro Flex 2 in 1 has a 13.5" adjustable, flexible gooseneck, so you can point the glass and light where you want and free both your hands. The heavy base or strong clamp ensure the light doesn't tip so you can enjoy comfort with close work. Review: "Solid and heavy, this base is more than enough to keep the lamp stable in any position it is set to."
LOVED BY CRAFTERS & HOBBYISTS: Reviewers have used it for painting, sewing, jewelry making, jigsaw puzzles, cross stitch, repairing electronics etc. Here's what they say: "Perfect for threading needles with ease." "Lights allow me to see true colors." (That's thanks to 6000K daylight-color cool white light - not yellow light.) "A life saver when stitches have dropped." "Enough room under the glass to solder." "A true helper for older eyes and very small electronics." Read the reviews!
21 YEAR LIFE BRIGHT LED LIGHTS & REAL DIOPTER GLASS FOR MAX DURABILITY - The 6W & 570 lumen LED lights are built in and last 20,000 hours - about 20 years if you use the Brightech Lightview Pro 3 hours every single day! The genuine diopter glass means the lens doesn't warp with time or heat, and is also scratch resistant. So it lasts longer than cheap acrylic/plastic lenses that warp in heat and scratch easily, requiring replacements in little time.
The Brightech LightView Pro Flex Magnifying Lamp features a glass lens in a desktop lens. The 2.25x magnification power is perfect for painting on smaller details on miniatures. The LED comes in a daylight color temperature with a lower Lumen of 570.
This is as much brightness as you would get from an average 40 to 60 watt incandescent  bulb – something we find a major drawback.
However, thanks to the flexible swing arm, the lens can be moved anywhere needed. The overall dimensions of this product are decent, allowing it a small footprint while letting you maneuver the light as needed. 
Pros:
Glass lens
Portable
Affordable
Flexible lamp system
Cons:
---
No.1
5X Magnifying Lamp - This magnifier lamp has 7" lens, with a 4.9" wide real glass, provides a 18" rang clear view. It was designed for anyone who focus close work, seeing small details easier, even with vision problems(eg:aging eyes, macular degeneration), reduce eyes strain and avoid dizziness. The magnification up to 5X/500%.
Adjustable Floor & Clamp Lamp - Best rolling base has 5 wheels as it rolls easily across carpeting, floors, has the best stability. You also can attach it to your workbench as a clamp lamp, as long as your desktop have a plain exposed flat edge. You can place the glass lens where you need it by adjust the swivel arm, doesn't need a hand to hold it, free your both hands to work.
1500 Lumens Dimmable Lamp - This lamp includes a built-in dimming power-saving LED fixture, it has 24 watts, 1,500 Lumens and a color temperature of a clear, 6500 Kelvin, provides enough brightness to make your small project very bright in the dark. The lamp lasts about 15-20 years so you will never have to replace it.
Multiple-Use at Home & Work Station - You won't feel dizzy when you see details long time through this 8-diopter real glass lens. This standing light can be used as a work light for estheticians, beauticians to do facials, eyelash extensions, tattoo. Artists, jewelers, repairman also use it to do other professional tasks. It also can be used as a family floor lamp for reading, sewing, cross stitching, knitting, puzzles, crochet, embroidery, diamond painting or other fine projects.
With a massive 7" lens and 4.9" wide real glass, the Lancosc Magnifying Floor Lamp offers a 18" range clear view. It was designed to decrease eye strain and dizziness. The magnification can be done up to 5X.
There are five wheels on the base which allows the lamp to easily move over carpets and floors while maintaining stability. You can also secure it to a workbench as long as there is a plain flat edge on the desktop. Due to the swivel arm, you can place the lens where you need it.
What we really like is the built-in dimming LED fixture. Made to save power, the LED fixture will last for a really long time while providing adequate brightness. 
Pros:
Big magnification
Power saving
3-years after sales service from company
Cons:
Pricey
The base is quite big
---
The best magnifying lamps for miniatures and model trains are the ones that meet your needs while keeping it comfortable. There are tons of choices in the market so stick to the guide we provided above to get the best.
Ultimately, you get what you pay for. Think about all the hours you plan on spending to paint models and miniatures. Why cause yourself pain with poor light?
Peter has been building model trains for longer than he can remember. An avid fan of HO and O scale this blog is a creative outlet to allow him to dive further into other scales and aspects of the model train community and hobby.