Creating N scale model trains is an extraordinary hobby and one that helps you design as well as bring to life outstanding model trains that you can use on your own layouts.
But the first thing you want to focus on when you create a new model train layout is the scale that you want to use. There are multiple scales and options to focus on. Usually, the scale of your model trains will also dictate the size of that entire layout as well.
With that in mind, the N scale model trains are maybe some of the most popular ones on the market. However, is there a way to identify the size of this scale and how do they differ when compared to other scales? Let's find out.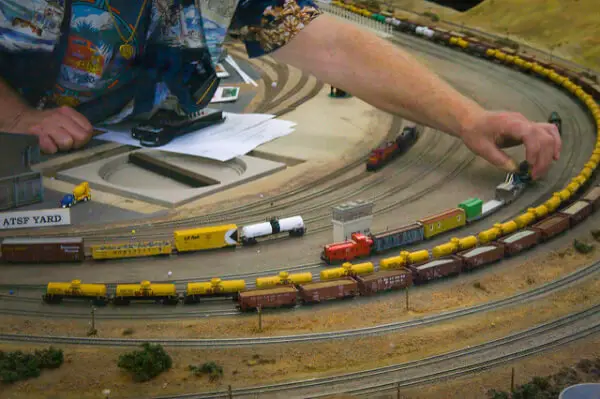 What are N scale trains?
The N scale model trains are extremely popular because they are small and very easy to manoeuvre. At the same time, they are also super detailed, so creating them requires a lot of hard work and intense manual labour to ensure that everything looks extraordinary.
Depending on the manufacturer, N scale model trains will have a scale that ranges from 1:148 to 1:160. Normally the N scale train will be 1:160, but some manufacturers create slightly larger locomotives and cars, so try to keep that in mind and make sure to do your research as you buy!
Then you also have to think about the rail height. This can differ based on what layout you want to create and what height is ok in that situation. Some of the more popular height codes would be code 55 rails of around 0.055 inches and the code 80 rails that are 0.080 inches.
If you take the real railroads into consideration, then a true scale would be 0.040 inches. However, in this situation, the locomotive and cars would not have enough stability and will likely fall off your track.
The code 55 rails are not good for the N scale model trains most of the time because they tend to have large flanges. This means wheels will bounce along ties instead of continuing their trip.
A brief history of N scale trains
Creating scale trains has been a hobby ever since the 1920s, however, the first N scale model trains were manufactured by the Arnold company in 1962. Initially, the HO scale was extremely popular, but for a lot of people it was too big and it required a huge layout. Since N scale model trains were half the size of HO models, these immediately became the norm for many models out there.
In fact, in just 2 years the N scale model trains started to set the norm for voltage, gauge, and height, among many others.
People in Japan like the N scale model trains because they are small and they also have smaller homes there. That being said, even if they do have large homes, they use this scale because it allows them to create an amazing landscape. Since your trains are smaller, you can put more work into the environment. And the best part is that your landscape is going to stand out quite a lot, definitely a lot more when compared to larger trains.
The same thing happens in Australia, the US and Europe. When it comes to purchasing N scale model trains, most models focus on using the US, British and European prototypes as they tend to create just about all kinds of models that suit your needs.
The interesting thing is that N scale model components and gauge tracks can also be used with larger scales if you want. Sometimes the trains and structures are used on HO layouts to bring in a sense of forced perspective.
One thing is certain, the N scale model trains have evolved quite a lot, and that brings with it a lot of creative possibilities!
The difference and size of N Scale and N Gauge
Despite the small scale differences, the gauge of these N scale model trains is always 9 mm. If you hear the term N gauge, this is referring to the track dimensions. A lot of people believe that the N gauge and the N scale model trains are pretty much the same things. The gauge only measures a set distance between rails, whereas the N scale is the proportion/scale of that model train.
It's a huge difference between the two things, even if it's very similar to one another, so when purchasing you need to make sure of 3 things; the scale (1:160), the gauge (9mm) and the train-track code (55) are all the same as what you already own!
N scale train model manufacturers
Finding the best N scale model train manufacturers can be a bit tricky. Some companies have been creating locomotives and train set for a long time, but there are great newcomers to the market too. And you can also find retired companies whose products still sell very well between collectors. With that in mind, you have to keep in mind that trends change all the time, yet some companies tend to be way better than others.
Kato is maybe one of the best N scale model locomotive manufacturers. While they do have model cars for your railroad, their locomotives impress a lot when it comes to build quality. Of course this does come at a cost, as the Kato models are known to be quite expensive. But then again, you do pay for quality and based on what people have to say, these are some of the best locomotives that will withstand a lot of work and pressure for quite some time.
Atlas, on the other hand, is more affordable, and it also delivers great quality for the money. They create tracks, locomotives as well as rolling stocks. They are available just about anywhere in the world, and their N scale model trains are durable and have a lot of attention to detail!
Micro Trains is maybe the best for N scale model trains and tracks in particular. They do a very good job when it comes to creating accessories such as landscape pieces too. The company has been around for a long time, so they have just about all you need to create a great N scale model set if you want.
There are some other companies such as LifeLife for example. While it's not as popular as some of the others here, they are very affordable. They also offer great mallets, so as a whole you do get a pretty good value for the money, which is why you might want to give them a shot and see for yourself if you like them or not!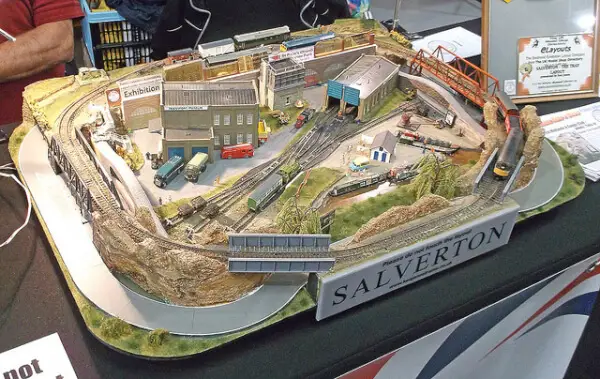 How to build N scale train models and layouts?
The first thing you want to do is to start off small. As a beginner, the last thing you want is to go with a very expensive layout and want to change after the fact. Your focus has to be on creating a very simple layout, and once you have that ready to go, you can expand. The idea is to understand the mechanics of creating a layout and then you will go from there.
At first, you want to acquire the model trains or you can build them yourself. There are many tutorials on how to build N scale model trains on YouTube and Google. You have to realize that this is a very complex crafting project and you need all the guidance you can get. Normally you will have to create the train from scratch, or you can just get a mould and create it based on that. Most people will just purchase the N scale model trains, because it's a much easier process and a lot more convenient too.
Now you need a tabletop setup. Usually, you will have to acquire some Ikea bookshelves or a large tabletop. This will be the layout base for your N scale model trains. Or you can be creative and use whatever option works for you!
Once you have that ready to go, you need to get enough tracks. Make sure that you purchase tracks which are compatible with your N scale model train, just to be safe.
If possible, try to acquire some accessories such as train stations, homes or even a few trees. These accessories will breathe life to your model. Even if you're working at a very small scale, you do want to add a few of these items.
As you lay down the track, try to avoid keeping it at the same level everywhere. What you want to do is to use some bowls or durable materials to raise the track. The idea is to have some elevation as well as straight tracks. It will bring in a much better visual touch to the track.
Connect the track to your electrical system. The N scale model trains won't work if you don't have the electrical system ready to go. Before you do that, make sure that the entire track is connected adequately so you can place your model trains in there right away.
You can get only a locomotive and a single car at first. You want to use them as a test, to see if they work or not.
If everything is ok, you can add more cars to the locomotive and even more locomotives and cars if you have a large track. If not, you can stick with a single train, that's not a big deal.
You can use this as the basic layout, and you can expand on it if you want. You can get more track pieces, purchase bridges, decorative elements and so on. Some people are very passionate about their layouts, and they craft their own decorative pieces by hand. But if you don't have the time or talent for that, you can easily go online and find a huge array of pieces.
Voltage and material used in N scale
When you want to use N scale model trains, you have to figure out the right voltage. That being said, some of the locomotives require a smaller voltage, others a higher voltage. Most of the time manufacturers will show the smallest and highest voltage value on the box. But you shouldn't run any of the N scale locomotives at more than 12 volts. Normally around 10 would be more than ok, maybe bump it up a bit more depending on the situation. If you see any problems or hear some noises, then you most likely have to lower the voltage. As we said, studying the product box is maybe the best way to figure out the safest voltage.
When it comes to the materials you use for your landscape, you want to go with natural materials. Sure, you can stick to something very simple, or you can opt for the complex approach. Adding sand, small shrubs, maybe even a bit of water if you want to enhance the experience and visual appeal of your landscape. But of course you can also stay as basic as possible.
If you want to add final touches, then you always have to think about the design of your track. Try to test it out multiple times and see what's missing, if you need to add anything else and so on. The final touches should add a sense of realism to your landscape too. Since these model trains are designed to mimic the real-life trains, you want them to feel and look as realistic as possible.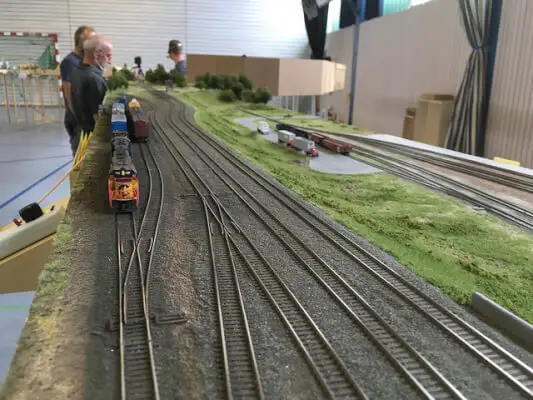 Tips to remember
Plan for the landscape space early on in the process. Sometimes your ambitions might be larger than the available space. So you do need to plan early on to avoid running out of space.
Figure out the budget and stick with it. Yes, it can be very easy to get into creating lots of model trains and spending a lot of money on them. That's why you need to be very careful about how much you spend.
Opt for the higher quality brands. Since you want to have the best N scale model trains, you should consider getting higher quality units early on.
You can start with a basic layout and add to it. Focus on creating a good railway at first and then expand the overall landscape if you want.
Starting your own N scale model train collection is an extraordinary experience. This is a great hobby because it allows you to be as creative as you want. Sure, it can be costly if you want to focus on realism and great visuals. But you are in control and you can feel free to create the most impressive tracks and use amazing trains if you want.
Do keep in mind that the N scale model trains are some of the best models to opt for due to their size and detail!
Want to learn more about model railroading in general? Read our Ultimate model train guide! OR, if you want to know about other train scales, read our model train scales explained post!