Remember Thomas The Tank Engine? Well, as the holiday season approaches, we'd be remiss if we didn't mention the Thomas and Friends Super Station. It came out a couple of years ago, but is still a crazy popular toy and will delight just about any child who plays with it. Even adults included! 
If your kids are budding train enthusiasts, or love the show, this is the ultimate Christmas gift to get them. 
The Thomas & Friends Super Station
If you're in a hurry, or are already pretty sure that you want to pick this up, feel free to click through the link here to check out the current price!
---
What is Thomas The Train Super Station?
Thomas the Train Super Station is a giant playset that lets tons of different Fisher-Price toys from the TrackMaster, Adventures, MINIS and the Wooden Railway range to all play together on one giant station. 
The Thomas Super Station includes Percy (Thomas and Friends Adventures), Thomas (TrackMaster), James (MINIS) and Harold, as well as a massive 35 feet of track and ten different locations to explore —like Knapford Station, Brendam Docks, the Search & Rescue Center and Tidmouth Sheds.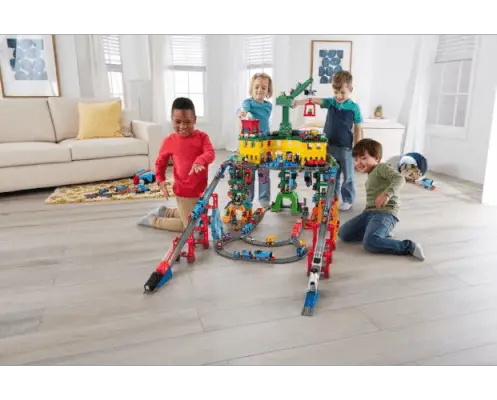 ---
Thomas Super Station Layouts
The station features a universal track system that lets you build it in Single Racetrack, Duel Racetrack, Compact Track (for those small apartments), and Micro Layout. 
The Tidmouth Sheds, Cranky and the Risers feature a range of hooks and storage spaces to place all your vehicles and trains too, so it helps keep your play area tidy! 
Well, as tidy as it can be anyway! 
---
Thomas Super Station Replacement Parts
You can purchase replacement parts if you've lost or damaged them from Mattel or Fisher-Price directly. This is only allowed in the United States and Canada unfortunately, so if you're in another country you might be in a bit of trouble. Head over to here to purchase spare parts for your Thomas Super Station. 
---
Thomas Super Station Extra Track
The Super Station set comes with a bunch of TrackMaster track adapters, Adventures track adapters and Wooden Railway track adapters so that you can connect different tracks that you might already own to make the Thomas Super Stations 35 feet of track even bigger! 
At the moment, you're not able to buy any extra of the 'universal' track, so you'll be stuck using the adaptors for the time being. 
---
How to build Thomas Super Station 
---
Thomas Super Station compatible Trains
The Thomas the Train Super Station is compatible with trains from 4 different Mattel Fisher-Price lines:
Thomas & Friends TrackMaster
Thomas & Friends Adventures
Thomas & Friends MINIS
Thomas & Friends Wooden Railway / Wood Range
It's worth noting that if you happen to use the extra track from one of the above sets with the adaptors, some of the trains might not run on it.
They only run on their specific track and the universal track. 
---
---
Thomas Super Station Size and Box Size
The Thomas Super Station measures in at 52 x 45 x 36 inches when fully assembled. This must only be the actual station itself because there are more than 35 feet / 10 meters of track that you can assemble yourself. 
The shipping weight is about 18 pounds, so you'll definitely want an adult to carry it inside for you!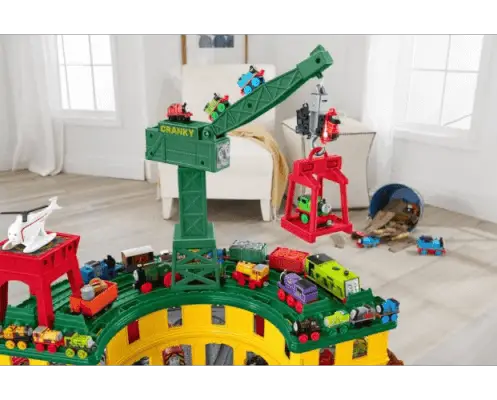 ---
Thomas Super Station Age Range
The Thomas Super Station is recommended for ages 3 and up. Despite that, even adults are going to love the Thomas playset!
---
Thomas and Friends Super Station Accessories and Add Ons
There are no official "accessories" for the Thomas Super Station, however, you can connect a variety of different playsets and tracks to it anyway! Here's a couple that we'd recommend that give you the best value for money regarding extra track and trains to play with:


Thomas & Friends Trackmaster, Multi-Pack of Motorized Toy Trains
4-pack of TrackMaster battery-operated motorized toy trains
Flip their switches to see them race along
Includes Thomas, James, Henry, and Charlie
Thomas features an exclusive steam & spark design
Motorized train play is compatible with TrackMaster track and train sets (sold separately)
Thomas & Friends TrackMaster, Thomas & Percy's Railway Race Set
Inspired by the Fisher-Price Thomas & Friends DVD movie, The Great Race (DVD sold separately and subject to availability)
Includes uniquely designed, racing-themed Thomas and Percy motorized toy trains
Track layout is over 6 feet long with two separate tracks for head-to-head racing
Layout features curved section of track with flags that wave as train passes
Two brake-tracks allow you to start the trains at the same time
Thomas & Friends MINIS Engines, 20-Pack [Amazon Exclusive]
​Create exciting Thomas & Friends adventures at home or on the go with this multi-pack containing 20 miniature train engines
More than 80 Thomas & Friends MINIS engines to collect, featuring never-before-seen themes
​Thomas & Friends MINIS train engines can roll along any surface
Collect additional Thomas & Friends MINIS push-along train engines, featuring different characters from the TV show. (Each sold separately and subject to availability.)
​For preschool children ages 3 years and older
---
Does The Thomas Super Station Need Batteries?
Yes – Thomas the Train can be battery-powered if you want and as such needs 2 AAA batteries to operate. Because it's a universal track system, any of the other battery-powered TrackMaster or MINIS trains can also run on it, and will also require batteries. 
---
Thomas Super Station Contents
TrackMaster Thomas with sparks and Orange Truck
Adventures Percy
MINIS James with steam
Harold
Two Crate Pieces
Two Barrel Pieces
Brendam Docks one way layout with Cranky and Cargo Lift
Tidmouth Sheds with Turntable circuit layout
Sodor Search and Rescue Center Helipad
Knapford Station Tunnel Base
Sodor Steamworks Tunnel Base
Sodor Dieselworks Tunnel Base
Blue Mountain Quarry Tunnel Riser with Owen
Three Green Legs
Five Riser Pieces
Two Blue Ramps
Two Blue Slope Pieces
Ten feet of track
TrackMaster track adapters
Adventures track adapters
Wooden Railway track adapters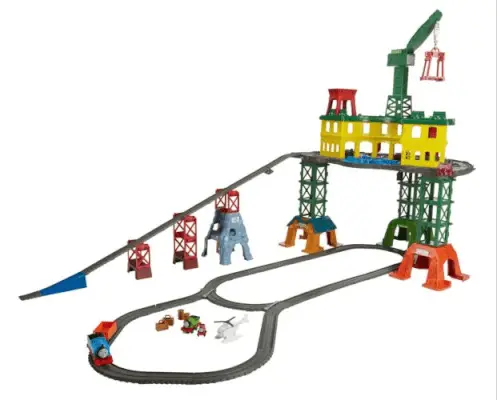 ---
Thomas and Friends Super Station Instruction, Manual and Directions
If you're after the instructions because you've lost them in all the excitement of opening the box, visit HERE to download a new copy! 

---
How long does it take to put Thomas super station together?
The Thomas Super Station can take a little bit of time to put together. Best estimates for putting it together range from 20-45 minutes, depending on how focussed you are! 
A little tip – let the adults focus on putting together the tower, and let the youngsters put together the track. It's a lot simpler and will help give them something to do while making it quicker to build!
The Thomas & Friends Super Station
So there you have it! If you want to purchase this amazing Thomas and Friends Super Station as a Christmas or Birthday gift and make some kids world, click below to find out the price!
---
So there you have it! That should be everything you need to help make an informed decision. Honestly, for the price, you're going to be hard-pressed to find a better birthday or Christmas gift. Because it integrates seamlessly with the other play-sets from Fisher-Price, its not something that you'll only use once. It can stay in the tool-kit for a long time to come too!
Peter has been building model trains for longer than he can remember. An avid fan of HO and O scale this blog is a creative outlet to allow him to dive further into other scales and aspects of the model train community and hobby.