We're not really sure HOW Christmas Train Sets Under The Tree got started, but we're all for it! As a kid, nothing really bet the magic of Christmas morning, opening presents and time with family, and having a model train set race around the tree really helped add to that atmosphere!
From toy trains that your toddlers can play with, through to collectable decorations from movies like The Polar Express we've tried to include a little bit of everything on this list.
There are a lot of different train models out there, especially for Christmas time, so we've narrowed it down to the best of the best.
Our Best Pick!
If you're in a hurry, or just want the best one of the lot, we recommend going with the
Lionel Polar Express Train Set
. It's a classic Christmas train that is well made, looks stunning and can be used year round if need be.
Take a look at our review of the Best Christmas Trains below!
The Lionel Mickey Mouse Christmas Train Set is definitely the perfect Disney obsessed kid in your house. Lionel is an industry standard model train manufacturer, so buying something from them will stand the test of time.
This set comes with:
3 detailed Disney themed train cars

Mickey conducting the engine and Donald handing out presents

50″ x 73.2″ oval of Ready-to-Play track – 24 pieces of curved and 8 straight plastic track pieces

Remote Control that allows for forward, reverse, sounding the whistle, ringing the bell and operating the headlight.
This is a battery powered set which means that you won't have any pesky cables running through your presents either which is nice. The fact that it's such a large track also means you'll have a huge interior circle to place presents in as well, to really make it feel like a proper Christmas train.
Check the Price on Amazon
Bachmann's Night Before Christmas Train Set is an iconic looking, pure Christmas locomotive. Bachmann has been making trains since 1833, so have more years experience than you've been alive!
This is a G scale train, so it's on the bigger end. The best part about that? It really stands out around the Christmas tree and makes it an eye-catching piece.
This set includes:
4-6-0 steam locomotive

operating headlight

smoke and speed-synchronized sound

tender with coal load

gondola

bobber caboose

Santa figure

5'4" x 4'3" oval of track (14 pieces)
If you've ever decided that you needed more green and red in your house at Christmas time, this is the kind of train that will delight adults and children alike. Some people have said they've had trouble with the tracks, but it's more of a case of making sure you spend the time to correctly put it together.
Check the Price on Amazon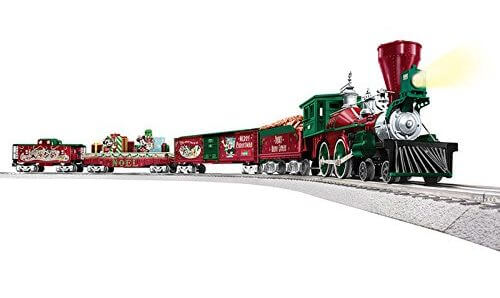 Another Mickey Mouse train set, this one is a high quality, super detailed train set that qualifies as a collector's piece more than anything. So this one might not be super applicable if you have little toddlers that enjoy picking up and throwing things.
This gorgeous set includes:
Mickey and Minnie figures circle the gondola when the car is in motion

4-4-0 General-style locomotive with wood tender

Boxcar

Animated gondola

Eight curved O36 FasTrack track sections, and two 10" straight FasTrack sections

Easy operating remote control, puffing smoke, chuffing sounds and lights
One of the best parts about this train is that it also runs on O scale. What does that mean? Well, an O scale is an industry standard size, so if you need more track or want to pick up other bits and pieces, you can make sure they'll run on your current setup.
O scale is great too if you have a smaller house or apartment, but still, want something big and noticeable under the Christmas tree.
Check the Price on Amazon
Now, this is a real collector's piece for a true Christmas fan. The Lionel Polar Express train set is a perfect replica of the train seen in the Polar Express movie. This is the more expensive of a couple Polar Express train sets that Lionel offer, and for good reason. This is the highest quality, pure die-cast metal, version, that also includes more sounds, lights and will really help to make you feel like you're at the North Pole.
This set includes:
2-8-4 Berkshire-style locomotive and tender

2 coach cars and 1 observation car

Polar Express decorative bell

4 Polar Express character figures

8 curved O36 FasTrack sections, 1 straight track section, and 1 terminal wall pack section

LionChief Remote Control
This set also includes everything you'd want from a Polar Express train; bells, whistles, lights, smoke, audio like "All aboard the Polar Express" and "Tickets please!", as well as silhouettes inside the passenger carriages.
Check the Price on Amazon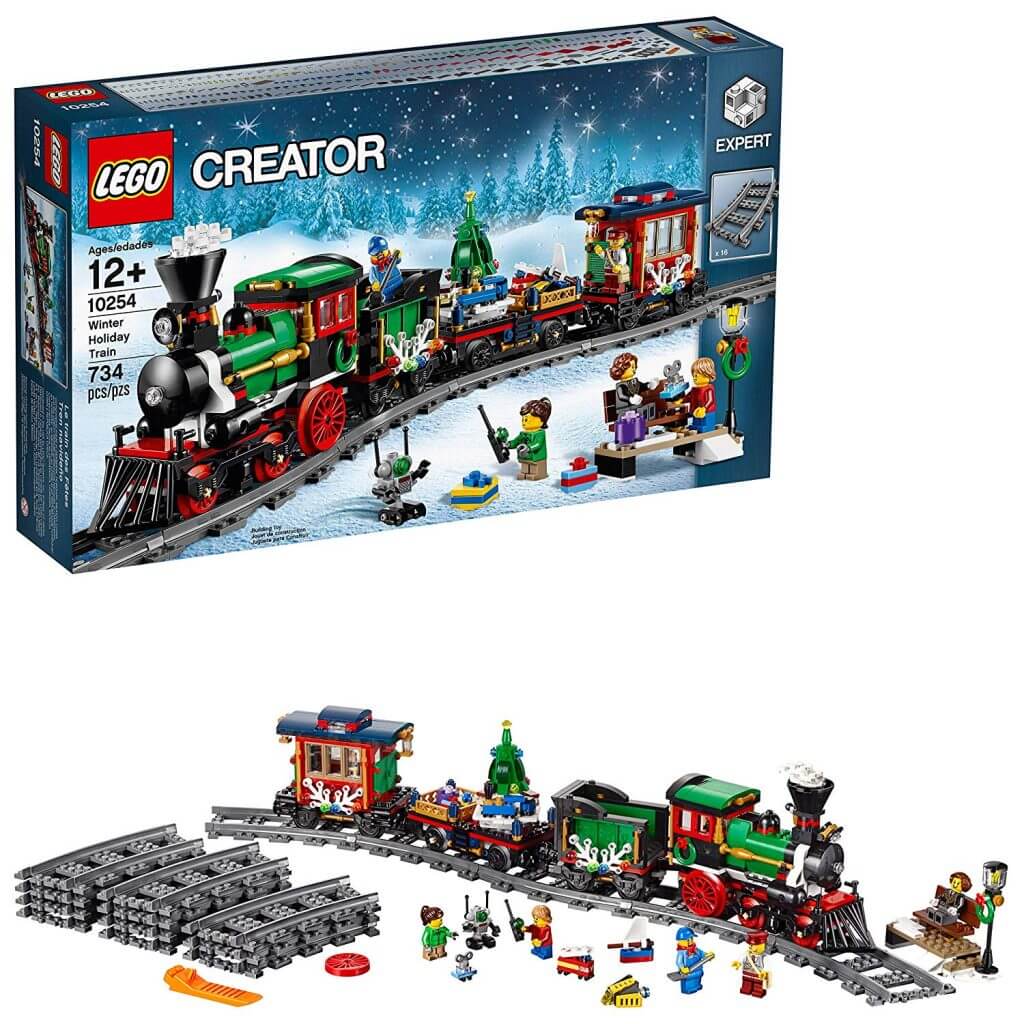 Know what the best Christmas gift is? Lego. Hands down!
So what's better than Lego? A Lego train set! This is the best Lego train on the market today and is going to entertain everyone in the family for hours on end. The best part about it being Lego also means that if you own other Lego pieces, you can easily customize it or create your own gifts to go on the back of the freight carts.
This super fun set includes:
5 mini-figures; a locomotive driver, ticket collector, grandmother, boy and a girl

Festive green wreaths, decorative lights, and buildable micro toys for mini-figures

The holiday train in total measures over 4" high, 20" long and 2" wide. Curved rail track diameter measures over 27"

734 pieces – For boys and girls over the age of 12 years old
Because it's Lego the train diameter is a bit smaller than other traditional model trains, but at 27 inches, it will still be plenty big enough to go around your Christmas tree. The only problem with this train is: Do you open it before Christmas to have around your tree? Or do you wait and build it on the day!
Check the Price on Amazon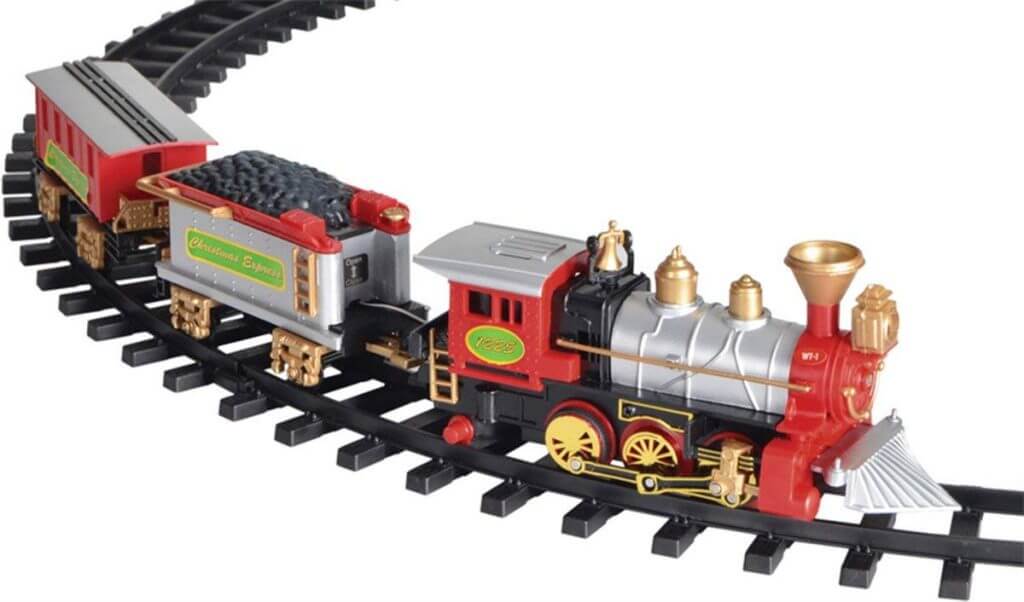 This is a really cool and unique Christmas train set. The Seasonal Vision Christmas Tree Train is designed to go inside your Christmas tree instead of down the bottom! By clamping around your trees base and using some support struts, its a nice way to help elevate your train track and run it around your actual tree.
This Christmas Tree Train Set includes:
Animated Engine, Realistic Engine Sound and Flashing Headlight!
Approx. 35″ Diameter Track

Includes 8 track sections

8 support struts

Tree clamp

Locomotive, Caboose & Fuel Car
The only problem that will occasionally come up with this train set is making sure that the train tracks are level the whole way around the tree. When you set the tree clamp and the struts up, take your time to make sure everything is as level as possible so the train can run travel on the track evenly.
Check the Price on Amazon
You know what kids love more than trains? Thomas the tank engine trains! This Bachmann Industries Thomas Holiday Special Train Set is a really nice set to put around the Christmas tree to delight any child. A really nice feature of this train is despite it being a holiday item, it runs on HO scale. HO scale the most popular size for model trains, so this will work on a variety of different tracks and there are tons of different accessories and other models you can pair this with.
This model train set includes:
Thomas the Tank Engine with moving eyes

Three festive holiday freight cars

56″ x 38″ oval of snap-fit E-Z Track
So everything you need to have a clean, festive layout running around your Christmas tree! Because Bachmann are a staple brand in the industry, their quality is usually pretty great and you'll get multiple Christmas's out of this before the need to upgrade or replace it.
Check the Price on Amazon
Remember the movie A Christmas story? How could you not! If you're looking to relive some of that wonder and amazement, or just want a nice-sized train set to run around the Christmas tree, this is a standout.
This Christmas Story Train Set includes:
a boxcar with opening doors, gondola with box load, reefer car with opening doors and illuminated caboose and more

Train length is approximately 58", track layout is 40" x 60"

Transformer controlled forward, neutral and reverse operation

Operating steam whistle with on/off switch in tender
Lionel is one of the older model train brands in the industry, and they're pretty renowned for making high-quality stuff. Some people have said they had trouble getting the smoke to blow as much as they want, but that can be fixed by picking up some smoke-liquid from your local $2 store.
Check the Price on Amazon
New Brights Holiday Express train set is big, bright, wonderfully crafted experience. This is one of the pricier items on this list, but you do get what you pay for. It runs in G scale, which is the biggest industry standard scale, so it'll be hard to miss in your living room. Personally, also a really big fan of colour scheme in this one!
This holiday express set includes:
Engine with Santa

Tender with Christmas tree

Candy Dancer Car

Santa's Toy Shop Car

Multi-function controller with sound and volume control and 120V transformer

Sixteen pieces of track form an approximate track layout of 3′ x 5′
A couple of people have experienced problems after 4+ years of owning it. That's really the only problem we could find doing research on this locomotive, so if you're happy to spend the money to get at least 4 years minimum out of it, this is a sure bet.
Check the Price on Amazon
So there you have it, that's our big list of the absolute best of the best Christmas Train Sets for under the Christmas Tree.
When you're making your purchase, always make sure that the layout is going to fit your home or lounge-room first. If you've got a big area, maybe consider a G scale layout. Or, if you live in a tiny apartment, think about the Seasonal Vision train that attaches directly to the tree; needs zero floor space and looks great!
Have you used any other Christmas Train sets around the holiday period? Let us know what you think in the comments below!
Interested in getting into the model train hobby? Have a read of our Ultimate Guide to Model Trains post, or dive into our Best Model Trains of 2018 post if you don't want a Christmas themed train (or just need an amazing gift!)