If you are very passionate about model railways, it's a very good idea to start building your own landscape. And in this case, you have to figure out what scale to use. The N scale is very popular, but for a lot of people, the lack of space pushes them to even smaller scales. And that's where the Z scale trains come into play.
The thing to notice here is that whenever you want to create a model railway landscape, you have to figure out the scale. Not only does this affect the model train types you use, but it also affects the landscape size and a variety of other things too. You need to have all these things nailed down before you start creating anything.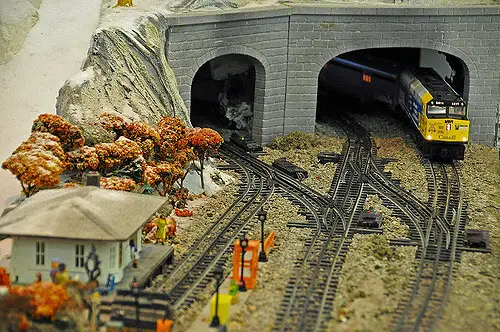 What are Z scale trains?
The Z scale trains are model trains that have a scale of 1:220. That makes them smaller than the N scale, but not by a very high margin. Another thing to keep in mind here is that the track gauge is 6.5mm or 0.256 inches in total, depending on the situation.
What makes this model train scale interesting is that it's tiny and you can easily play around with it as you create a very detailed landscape. You get to use a lot more space for the landscape itself, yet at the same time, the trains are visually appealing and super detailed despite being rather small, to begin with.
Just like all the other model train scales, the Z scale locomotives can have digital decoders so you can have independent control. You have a lot more leeway when it comes to this, and the experience only gets better and more rewarding when you start using such a product.
Moreover, landscape items like animals, human figures or houses are readily available online. That alone goes to show that there's quite a large following when it comes to this type of product, so check it out.
A brief history of Z scale trains
The Z scale trains were created in 1972 by Marklin, a well-known manufacturer from Germany. He wanted to create something smaller than the N scale, and he chose the Z because he believed this would be the smallest model train size and no one would ever go smaller. And to some extent the manufacturer was right. Even if there have been attempts to create smaller scales, such as the T gauge (1:450), it's safe to say that these remain niche products and not something widely usable or available at this time.
In fact, a Z scale locomotive created by the company entered the Guinness Book of World Records by running for 1219 without stopping before having a motor failure. This is quite the achievement for this scale, and it shows the durability and great potential offered by Z scale trains.
At first, the Z scale trains were popular in Europe. However, since the 80s and more particularly the 90s a lot of people in the US and Japan started using this scale as well. At first, the Z scale trains were higher, however, technological advancements brought the prices down and that just makes things a whole lot better and more interesting, to begin with.
There were multiple attempts to use digital controls for Z scale trains, however, these were unsuccessful until the early 2000s. This is when the DCC standard started to be more and more popular. Nowadays you will notice that the Z scale is a very mature, impressive scale that has just about all types of features. You can find Z scale rolling stock, trains, carts, locomotives, buildings and so on. While it still requires quite a lot of attention to detail and care, the Z scale is certainly an amazing one, and it does bring you extraordinary efficiency.
What are the advantages of Z scale trains?
There are many things you will like here. The major one is that you get to create a more elaborate layout since the tracks and the trains themselves are smaller. You can make a more accurate and visually impressive landscape even if you lack space. Some people create Z scale landscapes on a regular table, and those can be extremely detailed.
On top of that, the Z scale models are known to be more compact. That makes them a pleasure to carry around, and you will have no problem getting the results you want from such a unit, to begin with.
In addition, they are great presentation pieces. You can take them from one place to another without having to worry about lots of luggage. And in many situations the Z scale allows you to use longer trains and more realistic curves. The primary focus is on practicality and on a much better experience, which does tend to work extremely well here.
Are there downsides?
The thing to realize here is that the Z scale trains are very small. That means you need to pay a lot more attention to your trains. The track needs to be clean at all times, as dirt or even dust can stop your models from working the way you want to. And you can end up with rolling stock or anything similar. If you want switching, you should avoid putting these in higher locations as you can end up with problems. While these are not dealbreakers, you do have to realize that sometimes the Z scale trains can be a bit harder to manoeuvre and they need more maintenance. But once you have all of that nailed down, the results can be quite impressive.
Z scale train brands and manufacturers
As you can imagine, the Z scale train market is not as powerful as the N scale. You still have plenty of amazing manufacturers on the market. The idea is to create a list with all the items you want, and then you can check the market to see whether the manufacturers below can fulfil your needs. Even if the market is not as powerful as other larger scales, there still are lots of companies ready to help you. And it's not that hard to get just about any item that you want nowadays, you just have to give any of these a shot.
American Z Line is a vetted manufacturer, and it comes with some amazing releases and great features. The cool thing about it is that it always creates new models to choose from and they come with great sales too. Which is why it makes a lot of sense to at least check them out and give their products a shot. The interesting thing is that you have a complete list of their products that's easy to search, not to mention they have a forum too. It's really easy to get support and assistance this way.
Marklin is great for all enthusiasts because it's overly professional and they do have just about all kinds of train models. So if you need a great and reliable model, they can most likely offer you a wonderful deal and plenty of value. It's a good idea to check them out; they have great prices and lots of models to enjoy.
Micro Trains is maybe the best one on the market here. You have just about all the Z scale trains out there, and they are all very detail. That being said, you will be amazed at the huge collection they have and the discounts they bring to the table. You have cars and locomotives as well as accessories that you can use whenever you see fit. They also allow you to contact dealers and inquire them about specific models.
Voltage and materials used in Z scale
At first, the Z scale trains ran on an 8V DC track, however, since 2000, all the Z scale trains are running on 10 V DC. The interesting thing is that the accessory power has always been 10V AC, which might be one of the reasons why all locomotives and tracks are not using this voltage, to begin with.
Materials used in Z scale are a bit more powerful. They use tungsten powder, but at the same time decorations can be created from plastic. As for the trains and cars themselves, they are created from stainless steel most of the time. Every manufacturer has its own set of features and requirements, and that's why you need to study the market closely to get the best results and value.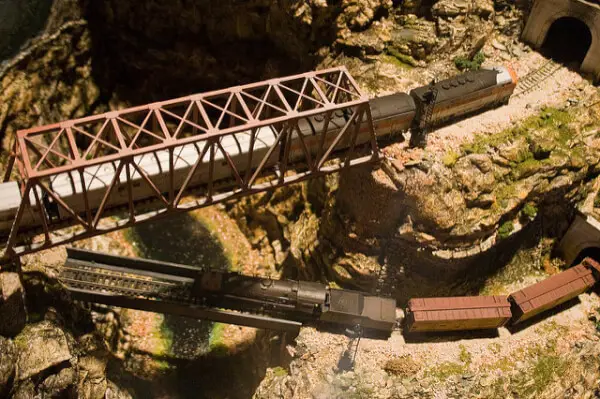 How to build Z scale train models and layouts?
Make sure that you purchase the Z scale trains or that you can create them on your own. Creating these on your own is very time-consuming, however, there are tutorials on Google and YouTube that will help you get started with this. It's a complex project, so if you don't want to go through that and spend a lot of time you can try to build these on your own.
The Z scale landscapes don't require a lot of space, so at this time you have to figure out where you place the landscape. Using a tabletop or any large/small table will work, as you can use this as a layout.
Make sure that you purchase the right tracks and trains. You need everything to be compatible with the Z scale, so try to keep that in mind while shopping online.
Once you have everything ready to go, you have to set up the track. We encourage you to add some height to the map, as that will make it more alive. Bowls or even a stack of books can be great to offer support. You can make things more professional if you want, it all comes down to understanding what you need to add and where. Creating a schematic beforehand will make this a lot easier.
After you finish the track, connect it to the electrical system. The Z scale trains need electricity to work. But before you plug them in, you want to make sure that everything is connected adequately and without any problems.
Testing is imperative here. Use the locomotive and a single car to see if it works. Then you can switch off, add the other cars and switch on.
This is the basic layout, but you can easily add to it and expand if you want. The idea is to not rush, focus on adding whatever you feel ok with and go from there. It will certainly give you a great experience, either way, so don't rush and just make the process more convenient.

Tips to remember
It's extremely important to create the right plans early on. That's especially true if you want to have an elaborate landscape. Proper planning can do wonders, and it will also make things better and easier for you in the end.
In addition, try to set up a budget beforehand. Most of the time you do end up over the budget anyways, but at least you will have some sort of control over how much you spend. As always, use the best brands on the market. Not all Z scale trains are high quality, some of the brands deliver a lower quality. That's why you want to avoid knock-offs from China that have a low-quality production. The aforementioned US brands are much better if you want higher quality results.
As you can see, it's amazing to create your own Z scale train collection and landscape. You do need to dedicate quite a lot of time to make it work, but the results are astounding and you will be more than amazed by the value and efficiency in the end. Make sure that you stick to the requirements and voltages too. The last thing you want is any type of problem. Compatibility is key, which is why we recommend you to get most of the stuff you need from a single place. That reduces any potential problems that can or might appear at times. In the end, the Z scale is great for most model train enthusiasts, and this should help you learn more about it!