So what do you do when you want to get into model trains but don't have the time or money to invest in building a real-life train layout? 
Well, you go digital of course! In this day and age, there's a ton of amazing train games for everything from virtual reality to PC to your iPad. 
Here are our top picks for a variety of best train games that you should consider:
---
Rolling Line – VR Train Game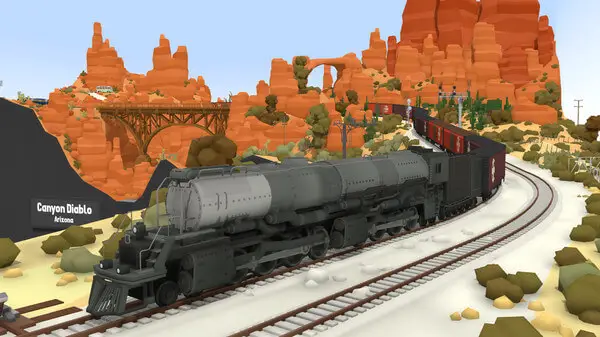 Rolling Line is really the amalgamation of current-gen tech for what is arguably a pretty old hobby. For those not in the know, VR is virtual reality. Put a headset on, get some motion sticks, and all of a sudden you're sitting in the cockpit of your favourite locomotive in a cool train simulator.
This model railroad game was released in April of 2018 and is still in development to this day – New updates occur fairly regularly, so there's always plenty of new stuff to do!
But what can you even do in this VR Train simulator? Take a look:
Build and share your custom layouts on the Steam Workshop
Share and download custom train paint-schemes on the Steam Workshop
Operate model railways in human-scale
Explore anywhere on foot in miniature scale
Drive trains in large scale with hand-held controllers
Drive trains in miniature from within the cab
Place your own custom track and build your own layouts
Dynamic day/night and weather cycles
---
Mini Metro – iPad Train Game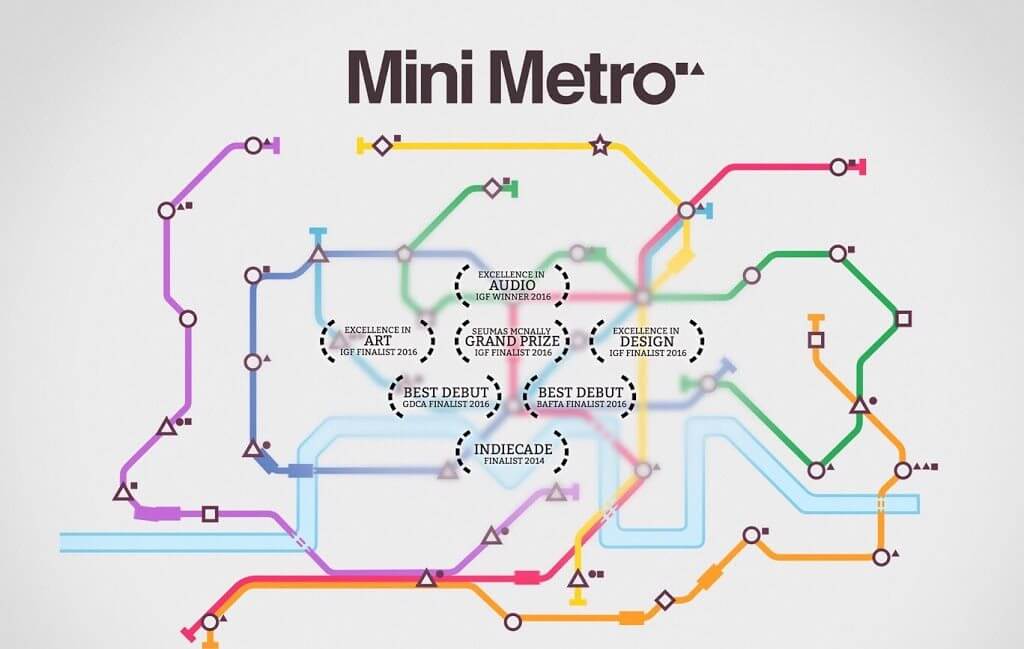 Kind of a curveball game to throw in here because it's not your traditional model train game, but it would be sacrilege to leave this one out. Mini Metro is all about organising your train lines and subway lines to keep your ever-growing city happy. 
It's an iPad game that looks like a train map and includes over 20 real-world cities to help test your planning skills.
It also includes a variety of upgrades for your networks and a bunch of different game modes to test your skills.
The big reason this game is here is because it's truly amazing. It was the Mac Game of the Year in over 30 countries and is literally BAFTA nominated. 
---
Ticket to Ride – iOS/Android Train Game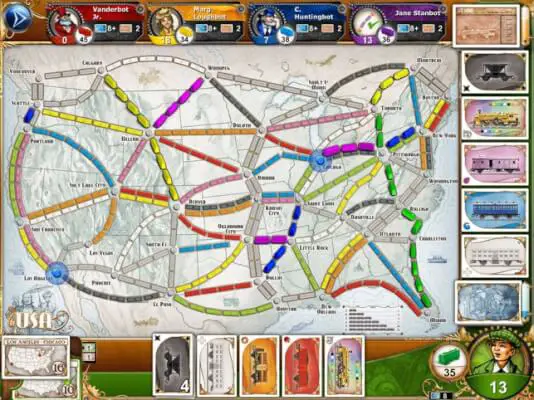 The board game version of this game is without a doubt the most famous model train games of all time. It's sold more than a million copies, and it's finally available for play digitally. 
This is a perfect adaption of the original board game and has the ability to purchase all the other maps for a few dollars. 
It allows for:
a classic single-player mode with 1 vs 4 ai players
Asynchronous multiplayer mode with other people. This means you can take your turns when you're ready and can do other stuff in the interim. 
Pass and Play Mode lets you literally pass and play on the same screen with up to 5 players. 
It's also cross platform! It'll let you play games between ios, android and even steam users!
This is a game I personally play on my phone on the way to work with my partner and have also played close to 50 games of the board game over the years too. I can personally guarantee that this is a near-perfect digital adaption of the board game. 
---
RailRoad Tycoon 3 – PC/OSX Train Game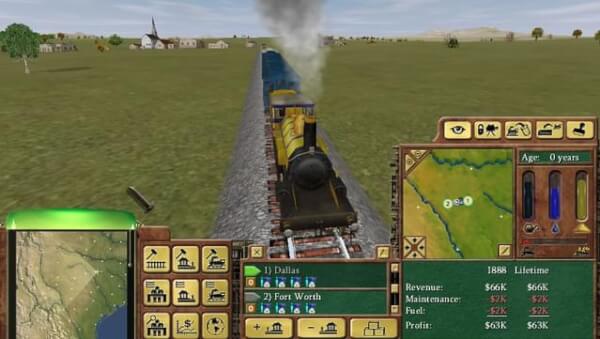 The Railroad Tycoon series was originally created by Sid Meier and published by Microprose Games. The first couple had his name attached to the title, but before Railroad Tycoon came out, he actually left the company.
Railroad Tycoon 3 came out in 2003, so it's quite an old game, but still holds up after all these years. 
It was one of the first railroad games to feature fill 3D with free camera movement. The premise of the game is to build routes between different cities to help deliver goods and cargo and to unlock and build new locomotives to help your railroad empire expand. 
With up to 70 different train locomotives in the game, a fully fleshed out campaign that spans from 1840 to 1985, there's something for everyone in this game. If you've never played an economic model railroad simulator game before, this is a sure bet. 

---
Sid Meiers Railroads! – PC/OSX Train Game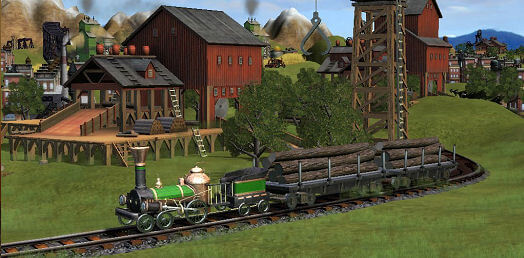 This is a sequel to Railroad Tycoon 3 and is the first model railroad games since the original Railroad Tycoon to have any direct input from Sid Meier. After visiting Minitur Wunderland in Hamburg, Germany Meier felt inspired to go back to a train game and used his new company to create this new game. 
It's essentially a sleeker, better version of the Railroad Tycoon 3 from above. So why did we say to start with the other one? Well, if you play this you probably won't want to go back to play RT3. This is a better game in every sense; hills, mountains, rivers and inlets all play a dynamic important role in laying tracks, resources are more country focussed, and the locomotives and gameplay just look better. 
Sid Meiers Railroads! Came out in 2006 with a Mac port coming out in 2012, so the original came out more than a decade ago. 

---
Railway Empire – PC/PS4/XBO Train Game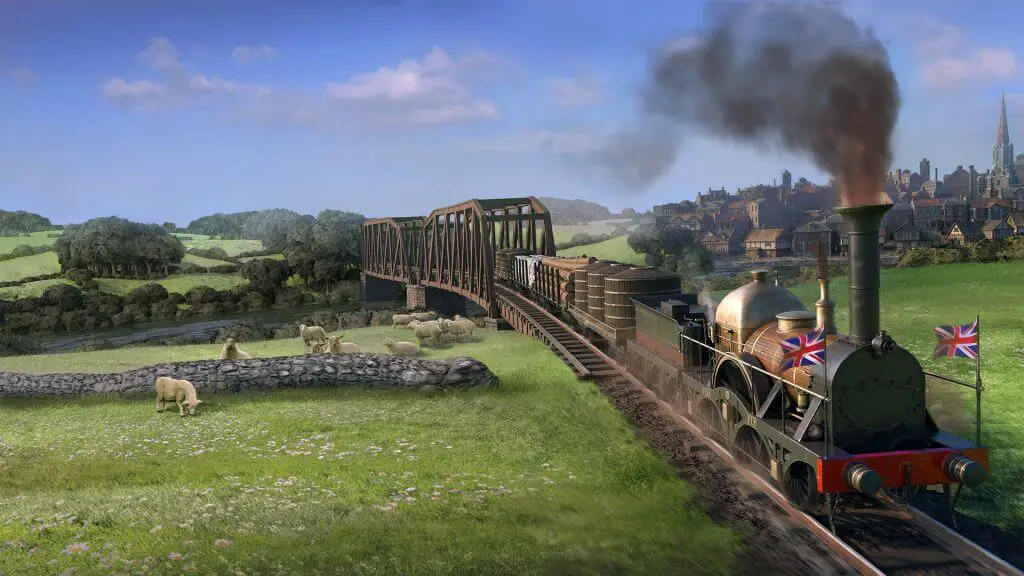 So what do you do if you want a model train game from this decade? Well, you play the Railway Empire. It released in January of 2018 for not just computers, but also game consoles like Playstation 4 and Xbox One. 
Developed by Kalypso Media (who make other great sim games like Tropico and the Duingeons Series), it's a beautifully thought out game that helps to take the model railroad game genre into this era of modern computing power. 
This game comes with more than 40 historically accurate locomotives and 30 different wagons that you can unlock over the 5 different era you'll experience in the campaign. It allows for single play and multiplayer games and has a development road map that goes into 2020 with Europe and Australia planned. 
---
There are a plethora of great digital model train games out there to play if you want. Everything from Virtual Reality to expanding the American Railway in the 1800's to playing on your phone on the way to the office. 
If you're looking for something a little more physical, take a look at this model train guide to find something you'll love!
Peter has been building model trains for longer than he can remember. An avid fan of HO and O scale this blog is a creative outlet to allow him to dive further into other scales and aspects of the model train community and hobby.