While we're doing our absolute best to provide great information regarding the hobby of model trains, there are a number of great magazines and forums out there already, that have been around for some time.
The magazines are great for some of the latest up-to-date news and the forums are perfect for questions when you run into a problem during building.  
Here's a collection of some of the best that we're either a part of, or think you should be!
---
5 Best Model Train Magazines
The world of model railroads is an ever-growing genre. The top five magazines for those who are either model train fanatics or simply just interested in the model train world are listed below:
Model Railroader
This publication began in 1934 as a magazine for rail enthusiasts written by model train hobbyists and is currently one of the oldest to still be produced. The unique perspective allows the reader a better glimpse into the world of model trains.
Each month regular sections of the magazine provide tips, tricks, and helpful hints for building and maintaining model trains and layouts.
Step by Step
In this portion of the magazine, the reader will be given different guides to building a better blueprint for their train scenario.
Information Desk
This is the part that correlates the world of real trains with the model train universe for a more realistic flair to the modelling realm.
Trackside Photos
A section that displays the photos of rail enthusiasts and their spectacular array of designs.
Workshop
The magazine displays helpful hints, tips and tricks for both operations of model trains and creation of scenarios for the enjoyment of the hobbyist.
DCC Corner
Digital Command Control is the part of the publication that introduces readers to the operation of the model train controls.
Trains of Thought
Expert Tony Koester takes his model train knowledge and gives readers a glimpse at the thoughtful world of the model train.
Other parts of the magazine feature articles that focus on every aspect of the model train hobby. From teaching the history of trains to plans for building the perfect track, and helping rail buffs decide which brand is ideal for them
Model Railroader is not only in print format but available in digital form as well. The premier magazine that can help both a seasoned pro as well as the beginner in the model train world
---
Continental Modeler
Founded in 1983, Continental Modeler is the European answer to the model train magazine. Inside the magazine, readers are given reviews on the latest products, both book and DVD reviews, along with a new plan monthly for layout builds for their model trains.
Similar to Modern Railroader – they supply all the information needed for readers to become experts in model trains. But the information is not just for those experienced, it also provides the knowledge that beginners often lack.
---
Finescale Railroader
Another excellent opportunity for readers to learn the details of model train operations. The Westlake Publishing Company provides tips on models from some of the world's premier craftsmen.
Digital copies can be downloaded from their website as an added convenience in our modern world.
---
Modern Railways
This British magazine was founded in 1962 and has continued publishing long past the turn-over of publishers in 2012. A train magazine that provides everything railroad for the reader.
It has been a favourite for both amateur enthusiasts as well as the railroad professional for more than 50 years.
They offer a great insight into the current state of the hobby, and keep you up to date on what new models are being released!
---
Trains – Kalmbach Publishing
Founded in 1940 this publication strives to publish information on the country's different railway systems.
The online website stands as the heart of Kalmbach's publications. Everything you want to know about modern railways, as well as an in-depth view into their classic past, can be found on the site.
Photographs astonish readers and informative articles appeal to enthusiasts or just those interested in railroads.
They actually offer several different magazines that are designed to teach readers about the intimate details of railroads, both full size and model sized. If you want to be a model railroad hobbyist, and produce as realistic a diorama as possible, this is a great place to start.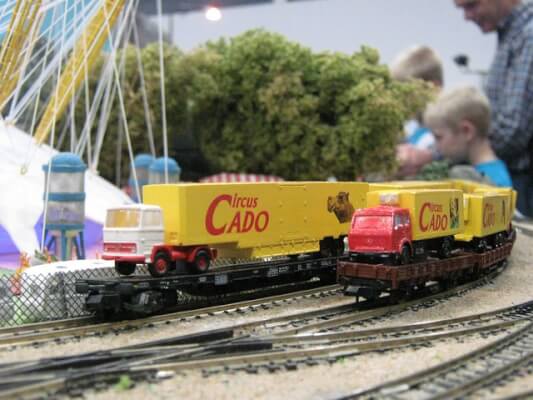 ---
5 Best Model Train Forums
The difference between an experienced model train builder or one in the first stages of a brand new hobby doesn't matter when a problem arises!
In those cases seeking out a forum of like-minded individuals is the best direction to take, as chances are good, someone has had the same problem as you already!
Our pick for five of the best model train forums are:
Model Train Forum
Model Train Forum is a website that allows you to join in conversations about the details of model trains. After joining forum posters are given the opportunity to join in discussions on all aspects with other model train enthusiasts or beginners in the search for guidance. A variety of topics include general discussion, scale specifics, multimedia, workshop, market place, communities, and vendors.
Each section allows the contributing individual to follow their own path in their model train adventure. General discussion and workshop are particularly helpful to the beginner.
---
Model Railroad Hobbyist
Model Railroad Hobbyist is a great forum from another honourable mention Magazine, MRH. Different forum topics include general modelling discussion, building, designing, and maintaining model trains. Hobbyists will enter into discussions for assistance, guidance, and sharing.
The magazine Model Railroad Hobbyist is the host for this forum and will help their subscribers with a vast knowledge to help modellers in every way. Scenery, designs of different prototypes, and operation logistics are some of the generalized topic sections of the forum. They also offer a section of the forum that is only available to subscribed members.
---
Model Railroader Forum
Model Railroader forum is another forum that requires subscriptions to join discussions. A great forum but one that has fewer topic sections than some of the larger groups. An area for general discussion, prototype information, layouts, and electronics are the primary sections. Each topic allows for a deeper insight into the questions a model train enthusiast might have.
To come to their defence, they're one of the larger forums out there, so if you do have a question, chances are you'll have it answered promptly.
---
Model Railroad Forums
Model Railroad Forums – This forum is divided into groups that organize the questions and discussions for easy access. Help and information is combined with announcements under their 'welcome' topic. A secondary group of forums are also on the site that allows tours of other hobbyist's layouts, and even a specific section for bragging about your model train creations!
Photos, vehicles, scenery, layout, structures, and discussions on DCC each have their own spot on the forum, providing those who contribute a look into other enthusiasts model worlds.
Another specific discussion area helps individuals to learn more about the scale of the different model trains. The difference between HO, N, O, and G scale are discussed in ways to provide information on them, and hobbyists that deal with specific scales have their own threads.
There is also a section that shows videos for those wanting to see examples of the different aspects of the model train world.
---
TrainBoard Forums
TrainBoard is the fifth selection on the list is yet another forum that provides contributors with a place to ask and receive information from other people with similar interests. Similar to the other forums, there are topics on every aspect of the modelling world and each topic covers discussions on a variety of issues.
Subscribers to the forum are offered the knowledge of people from all over the world.
---
Choosing which forum to join is often a matter of preference, and which specific topics they all offer. While some have a broader range of subjects than others, the fact is that if you have a question on the hobby modelling, there is an answer on a forum to guide you in the right direction.
Peter has been building model trains for longer than he can remember. An avid fan of HO and O scale this blog is a creative outlet to allow him to dive further into other scales and aspects of the model train community and hobby.