Louis Marx and the Marx Toys company flourished a lot during their operational years, to the point where back in the 1950s, they were the biggest toy company in the world!
They produced everything from tinplate buildings, toy soldiers, toy dinosaurs, mechanical toys, toy guns, action figures, dolls, dollhouses, toy cars as well as manufacturing their own marx trains.
Nowadays, we don't really hear a lot about them anymore, but how come!?
This company faced some incidents, achievements, ups and downs, and since its founding in 1919.
Let's take a deep dive and find out more about the awesome history of the Marx Toy Company and how you can still get your hands on a Marx Train!
---
What are Marx Trains?
Louis Marx and co-founder David Marx first began the Marx Toys in 1919 by contracting out popular toys and tweaking them.
In 1929 Marx entered into a contract with Girard Model Works to sell them trains and toys exclusively, before eventually acquiring the company in 1935. Marx began developing new lines of toys and trains, and made tin-plate trains until about 1972, and also began manufacturing plastic trainsets in 1952.
Marx trains were mainly built to be like toys rather than scale models. These were miniature trains that were designed predominantly in O gauge, however, they did move into HO eventually. These were made to operate the 'O-27' slender radius track, which was so popular that other manufacturers were forced to follow suit.  
Marx Trains were considered "The most important producer of inexpensive American toy trains" and by the mid-'50s they had nearly doubled sales of their nearest competitor, Lionel Trains.
The success factors of these trains are definitely interesting. These trains were simple in design and were definitely cheaper than their competitors, but still managed to retain a decent quality. In addition, it appealed to a realistic look and play value.
The trains had lithographed designs on them. It included doors, rivets, real railroad signs, and window shades.
Antique Marx trains are widely well-known among many collectors. 
---
How Do You Identify a Marx Train?
There definitely are certain features and aspects that allow you to determine whether it is a Marx train or toy!
Most commonly, there is a logo of Marx's design on it, usually stamped on the bottom.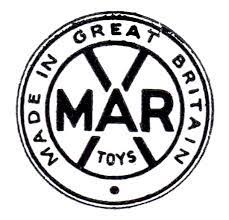 Another aspect for identification is the material from which it is made, either synthetic or plated tin. Until the 1960s, the trains were not made of plastic!
Identify whether the train has a particular theme or design as well; If the train has a theme linking it to space exploration, such as the Cape Canaveral Train Set, then it was made in the '60s.
Train sets with television themes date from the late 1950s and early 1960s as well.
Marx also produced special-edition train sets, such as the series of diesel trains made for Sears throughout the 1960s.
Collectors today prize these special-edition sets.
---
Are Marx Trains Still Made?
Unfortunately not! Marx Toys and Trains went out of business in 1980.
Several of Marx's toolings, machines, and molds are still used today to make trains and toys, however! For example, a new company that purchased the rights to the name Marx Trains, Inc. created tin trains that are lithographed in the actual design and the patterns based on Louis Marx's designs. 
An exciting piece of information is that Marx had already changed its name many times. Thus, though now there are the same Marx-branded named companies, none recent ones are associated with the actual Louis Marx and Company. 
Most recently, Jay Horowitz of American Classic Toys, the current rights holder of the Marx brands, entered into an exclusive license agreement with The Juna Group to represent the Marx brands worldwide, so keep an eye out for that Marx logo on the shelf soon!
---
Why Did Marx Toys Go Out of Business?
Despite the significant operations of Marx toys, the company had to shut down by 1980. They were in the business from 1919-1980. 
In 1972, Louis Marx sold the company to the Quaker Oats Company for nearly $350 million dollars in today's money. After not finding synergy with existing companies under them, and ignoring electronic toys, the company was sold again to Dunbee-Combex-Marx, who had bought the former Marx UK subsidiary in 1967.
There were declining economic situations in the UK which caused issues for Dunbee-Combex-Marx including high interest rates.
Despite these downturns, they operated until 1980 before shutting down the last remaining factory.
---
Where Was the Marx Toy Factory Located?
Marx toy factory was one of the biggest manufacturers of toys under one roof. The headquarter of this company was in New York. 
Initially, they started making toys in 1921 in Erie, where they produced millions of units of the products. 
Later, around the 1940s and 1950s, the Glen Dale plant was the most prominent sport for toys production.
The factory in Glen Dale manufactured many toys, and it was the most significant spot compared to the other Marx's plant. 
---
What Happened to the Marx Toy Museum?
In 2001, a longtime collector of Marx toys, Francis Turner, established the Marx Toy Museum in Moundsville, West Virginia.
During its operation, this museum was a glorious sight. It was located around 1.5 miles from its largest factory in Glen Dale. 
The Marx Toy Museum exhibited Louis Marx's toys from the period of 1930s through the 1970s. This museum was opened to the public for about fifteen years. 
However, the doors of the Marx Toy Museum closed on the 30th of June 2016.
Despite the closure of the physical museum, it continued to allow visits online.
---
Are Marx Trains Worth Anything?
In the beginning, Marx's trains were made of tina and were manufactured to be economically friendly for all ages. Though they were significantly less in cost, they looked realistic compared to the other types, such as the Joy Line trains.  
Despite there being a small collectors market for them now, they're not a massive markup – a Marx passenger car can cost around $10-$50 on eBay.
Full Marx train sets can go from anywhere between $100-300 depending on the model and the era it was manufactured.
So despite their popularity, you probably aren't going to find a $1,000+ train hidden in your attic.
Peter has been building model trains for longer than he can remember. An avid fan of HO and O scale this blog is a creative outlet to allow him to dive further into other scales and aspects of the model train community and hobby.