If you decide that you want to buy N scale models, you might notice that some are made out of brass!
Brass models are seen as the crowning achievement by a lot of people in the model train world due to their technicality and the fact that a lot of them are hand-made.
Obviously, it comes down to personal preference for a lot of people whether they even like brass trains, but for those that do, they're often the pride of their collection.
If you're interested in getting into Brass trains, read on!
---
The History of Brass Trains
N scale brass trains were introduced shortly after WWII ended. People started to get into more and more hobbies, and this was something that was very common in Japan at the time.
Some GIs that remained there started visiting the hobby shops and eventually, they saw that the Japanese craftsmen were creating amazing model trains. The former soldiers soon started to enjoy this and they asked the craftsmen to create North American model trains. This was the beginning of the craze that now takes place all over the world.
Japanese craftsmen were using brass because it's a very dependable and powerful material, it's extremely durable and it does help craftsmen create some amazing models without that much of a problem. Japan continued to remain the top manufacturer for scale brass models until the end of the 70s.
Because they were dominating the field, their products eventually crept up in price. As a result, Korea entered the brass model train market and they did have their fair share of challenges.
In fact, most of the first brass models made in Korea had teething issues. The craftsmen were not 100% on top of this, so they did have some production issues, especially in the beginning. As time went by, and Korean manufacturers started to get better and better. Eventually, they surpassed the Japanese companies, offering very good quality and a lot of value for money.
Now you can find a vast range of manufacturers on the market. That means you're getting really good value for money, and there are plenty of different models to choose from.
---
Why choose an N scale brass Model train?
Brass is while being fairly niche, is really a special party of the model train scene.
It's very collectible, and it provides you with amazing quality and value for money.
Plus, N scale brass locomotives are expensive and you will notice that most of them are very limited in production. That's why they cost quite a lot of money, because they are some of the most accurate representations of trains, and they also look amazing at the same time.
It really goes to show the quality and value you can get, and the attention to detail is staggering every time you use this type of product.
Plus, most of them are created manually as opposed to the mass production used in common scale trains with molds. It's easy to see that the visual representation is unique and you really get extraordinary experience compared to an off-the-shelf train.
It's unlike anything that you can find out there, and it's exactly what you will like in a situation like this.
These are museum-quality pieces and you will be very impressed with their unique attention to detail and the fact that they are so visually distinctive.
Aside from the amazing quality and attention to detail, these products are great for display purposes. They can even be used as a representation for an upcoming railroad.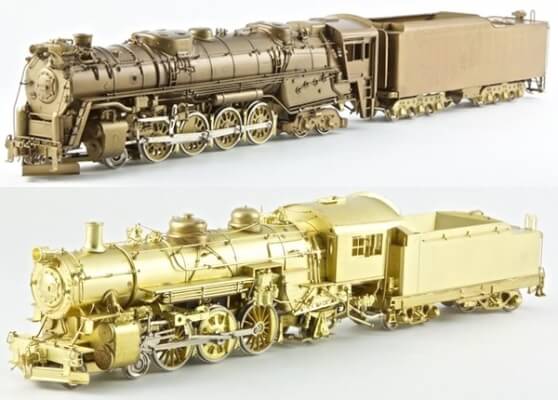 ---
What do N scale brass trains cost?
The cost of brass locomotives will differ based on what you want to buy and how rare it is.
You will find some brass locomotives that go for over $1000 and tracks as well as even just boxcars that sell for $500 or more. So yes, these brass model trains can be very expensive.
So while this might seem expensive, if you're a true fan or are looking to do something different, this might be a good option for yourself.
---
How do you get started with N scale brass Locomotives?
If you want to get started with brass model trains, the first thing you want to do is to buy a suitable track and all the necessary equipment, the same as you would any other train. You can either buy brass train kits or, despite the fact they're brass, a regular N scale track will still allow them to run.
The reason you want to do this is that some brass trains and locomotives themselves can be very expensive. That being said, you can find some brass train kits which help lower the price.
But if you can't figure out what model to go for at first, pick the model train scale you want to use, make sure that there are brass models for it, and start laying out the track.
---
What makes a high quality brass train?
The thing that always makes n scale brass trains a very high quality is the fact that they are extremely detailed. One of the big selling points is that not only are incredibly unique in design, they're also relatively small in manufacturing number, which tends to make them a bit of a rarity too!
It really sets the tone to bring in something unique and different, especially for hobbyists that want the cream of the crop.
---
Who makes brass trains?
There are multiple manufacturers fully specialized in brass trains. This includes Bavaria, Lemaco, Fulgurex, Ajin Precision, Roo Rim Precision, and many others.
There are a lot of manufacturers like Railway Classics or KTM or Max Gray whose models are not produced, but they can still be acquired on the secondary market.
---
Conclusion
If you really want to have a crack at the pinnacle of the model train hobby, then it makes a lot of sense to give brass trains a try.
They are amazing, they look great and you will be impressed with their quality and attention to detail.
Sure, they can be quite expensive, but brass train models are some of the best of the best of model trains, so they are well worth it!
If you'd like to take a look at some other model trains that are a bit cheaper, have a look at our electric model train guide here.
Peter has been building model trains for longer than he can remember. An avid fan of HO and O scale this blog is a creative outlet to allow him to dive further into other scales and aspects of the model train community and hobby.